About this wiki | New pages | Categories | Wiki tutorial | Help pages | Sandbox | References
Manual of Style | Blocking Policy | Frequently Asked Questions | Good Faith | Article Conventions | Images | Profile Image Change | Blog Policy | Personal Attacks | Administrators


A fan community and encyclopedia for
Universal Pictures multimedia film franchise that anyone can edit!
Our database currently contains 295 articles and 1,068 images.

For your best browsing experience, we recommend that you create an account.
Before you start to edit our wiki be sure to check out our Policies and Guidelines.



The Fast and the Furious Wiki will contain spoilers for the franchise. Read at your own risk.
The Fast and the Furious (also known as Fast & Furious) is an American franchise including a series of action films, which center on illegal illegal street racing and heists, and various other media portraying the characters and situations from the films.
Distributed by Universal Pictures, the series was established with the 2001 film titled The Fast and the Furious; followed by seven sequels, two short films that tie into the series, plus video game series. Having earned over $3.5 billion at the worldwide box office as of April 2015, The Fast and the Furious has become Universal's biggest franchise of all time. Read More...

Furious 7 continues the global exploits in the unstoppable franchise built on speed. Vin Diesel, Paul Walker and Dwayne Johnson lead the returning cast of Furious 7. James Wan directs this chapter of the hugely successful series that also welcomes back favorites Michelle Rodriguez, Jordana Brewster, Tyrese Gibson, Chris "Ludacris" Bridges, Elsa Pataky and Lucas Black. They are joined by international action stars new to the franchise including Jason Statham, Djimon Hounsou, Tony Jaa, Ronda Rousey, Nathalie Emmanuel and Kurt Russell. Neal H. Moritz, Vin Diesel and Michael Fottrell return to produce the film written by Chris Morgan.
Following their return from London, Dominic Toretto and his crew are blindsided by an attack from the elder brother of Owen Shaw, Deckard, who is looking to get back the people responsible for his brother's injuries. When Han Seoul-Oh is killed in Tokyo, Dominic is approached by Black Ops operative, named "Mr. Nobody", who promises to help Dominic and his family find Deckard Shaw if they agree to help rescue a hacker named Ramsey from a terrorist named Mose Jakande.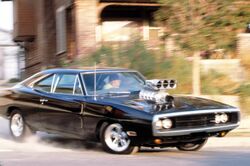 The 1970 Dodge Charger R/T is a major car driven by Dominic Toretto in The Fast and the Furious franchise.
The 1970 Dodge Charger R/T kept inside the garage of the Toretto House, was built by Dominic and his father in his youth. When his father was killed in a stock race accident by Kenny Linder, Dominic refused to drive the Charger because he was afraid of it.
When Brian O'Conner became integrated into the crew and even began dating Dominic's sister, Mia Toretto, Dominic led him to the garage and showed him the Charger. The car is famed for its incredible power at 900 horsepower and holding a record 1/4 mile time at just nine seconds flat, set by Dom's father at the Los Angeles County Raceway.




"I live my life a quarter mile at a time. Nothing else matters: not the mortgage, not the store, not my team and all their bullshit. For those ten seconds or less, I'm free."

What did you think of Furious 7?
Will you see Fast and Furious 8?
Favorite film in the franchise (not in theaters)?
Create blog post
Blogs
Hey all, just had a bunch of new Furious 7 videos land on my virtual desk, check 'em out & comment below to let me know what you think!





(Check HERE for more Furious 7 videos!)




Read more >

Hey there!

I would love to see your fav cars or futur car goals!

share them with me and the community

ma personal car goals:

Koenigsegg CCXR
Lexus LFA

Read more >
See more >