The following is a list of references to The Fast and the Furious franchise in popular media.
Television
American Dad!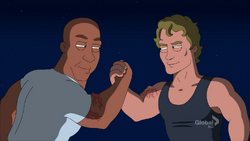 In the episode "American Stepdad" Steve, Snot, Barry and Toshi finds the script for Fast & Furious 7. When they read it they found out it had a lot of homosexual scenes in it.
Archer
The episode "Drift Problem" Pam says "...and again, just really sorry about your nephew", to the Yakuza boss who runs the underground drift-circuit. He replies, "He knew the risk." This is a reference to the ending of The Fast and the Furious: Tokyo Drift.
Community
Phineas & Ferb
South Park
In the episode "Safe Space" a grocery clerk mentions the Fast and the Furious, Vin diesel is also in this episode.
The Cleveland Show
An episode titled "Fist and the Furious" is a reference to the Fast & Furious series.
The Simpsons
Comics
Futurama
The comic's name "The Fry and the Furious!" is a references to the Fast and Furious franchise.
Movies
Vacation (2015)
In Vacation, the sequel/soft reboot to the original 1983 film, Rusty Griswold attempts to go underneath a truck as well as drift, telling his wife that if Vin Diesel could do it, so could he.
Tokyo Mater
The computer animated short film Tokyo Mater spoofs The Fast and the Furious: Tokyo Drift.
Ad blocker interference detected!
Wikia is a free-to-use site that makes money from advertising. We have a modified experience for viewers using ad blockers

Wikia is not accessible if you've made further modifications. Remove the custom ad blocker rule(s) and the page will load as expected.