Furious 7

Country
Language
United States
English
Distributors
Universal Pictures
Followed By
Fast & Furious 8
Furious 7[1], also known in the UK as Fast & Furious 7[2] will be the seventh installment of The Fast and the Furious series. Vin Diesel, (the Late) Paul Walker, Dwayne Johnson, Michelle Rodriguez, Jordana Brewster, Tyrese Gibson, Chris Bridges, Elsa Pataky, Lucas Black and Jason Statham have been confirmed, and will all reprise their previous roles from the franchise.
Summary
Continuing the global exploits in the unstoppable franchise built on speed, Vin Diesel, Paul Walker and Dwayne Johnson lead the returning cast of Fast & Furious 7. James Wan directs this chapter of the hugely successful series that also welcomes back favorites Michelle Rodriguez, Jordana Brewster, Tyrese Gibson, Chris "Ludacris" Bridges, Elsa Pataky and Lucas Black. They are joined by international action stars new to the franchise including Jason Statham, Djimon Hounsou, Tony Jaa, Ronda Rousey and Kurt Russell. Neal H. Moritz, Vin Diesel and Michael Fottrell return to produce the film written by Chris Morgan.
Plot
TBA
Cast
Principal Cast

(* Note 1): Actor, Paul Walker, died on November 30, 2013 and will be replaced by four body doubles and use CGI to keep his role within the film. It is later confirmed that Walker's brothers, Cody and Caleb Walker will complete small parts of the movie.[4])</

   

Supporting Cast

Nathalie Emmanuel as Ramsey
Kurt Russell as "Mr. Nobody"
Tony Jaa as Kiet
Ronda Rousey as Kara
Djimon Hounsou as Jakande
Ali Fazal as Safar
John Brotherton as Sheppard
Romeo Santos as Mando
Eden Estrella as Samantha Hobbs
Noel Gugliemi as Hector
Iggy Azalea as Head of Monster Truck Crew(cameo)
Charlie and Miller Kimsey[5] as Jack O'Conner
JJ Phillips as Billionaire
Faheem Najm as DJ - T Pain
Britney Alger as Jasmine

Uncredited
Production on this upcoming film
Fast and Furious 7 was originally intended to film back-to-back along with Fast 6 and was already confirmed even before Fast 6 aired. Development began before Fast 6 went into production and Diesel stated it would release in July 2014. Filming began for Fast 7 in September, though schedules were interupted however, when lead Paul Walker died on November 30th. Filming was delayed and continued in April. The production ended in July 2014, the original slated release date. Fast 7 is officially going to hit cinemas on April 3rd, 2015.
It was revealed that James Wan would replace Justin Lin and would direct the next trilogy. Following Walker's death, production was delayed and the budget increased due to amount of incomplete scenes needed for CGI and stunt doubles. The budget was estimated nearly $250 million. Several co-stars express their grief and sadness over Walker and losing a member of their 'family'. This film will be dedicated to the loving memory of the late, and great, Paul Walker.
Paul Walker's Honour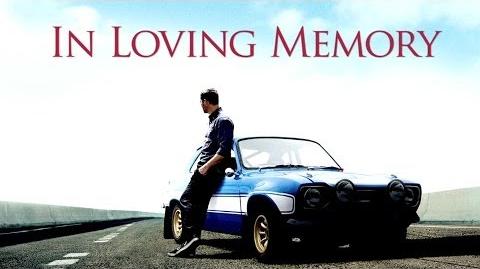 On November 30th 2013, a unbelivable tragedy striked the entire world. The beatiful and talented Paul Walker passed away in a catastrophic crash and the earth lost another soul. In order to keep his legacy alive, we dedicate these messages so his spirit will never be forgotten. Any contributor can feel free to write a message; attach your message in the comments for a chance to be seen here in order to carry his honour. You portrayed an outstanding role of the mesmerizing Brian O'Conner. We love you - Rest In Peace.
Sequels
Vin Diesel has stated that Fast & Furious 7 will be the start of a new trilogy. Possibly, this may lead to Fast 8 and 9? [6]
On 11th September 2013, it was announced that Fast 8 was currently planned and is in the works. It was also revealed actor Kurt Russell, who is expected to play a father figure to Dom, may not appear in Fast Seven but make his debut in Fast 8.[7]However, Russell stated himself that he wa shooting scenes for Fast Seven. It was later confirmed that he would continue his role in Fast and Furious 8.[8]
Diesel stated they have planned the structure of the story from Fast 7 through to Fast 9 wether they have been signed on or not. He also stated with a new director, it is the chance for the franchise to head into a new direction.[9]
After actor Paul Walker died, possibilities left numerous thinking wether the franchise could continue. It was predicted the franchise would continue without Walker - by either killing him off or a re-cast, which was unlikely in this case.[10]
Diesel, Rodriguez, Gibson and Bridges are considered 'regulars' and will return in upcoming films. Walker's character Brian will NOT be killed off but will instead retire and exit the franchise[11]. Brewster, who parted ways with Paul's characters Brian could have most likely exited the franchise too. Brewster commented it is "up to the fans" on behalf of her return. Lucas Black has been confirmed to return to Fast 7, 8 and 9. Dwayne Johnson character Hobbs has been rumoured to be leaving the franchise. Kurt Russell will appear in Fast 8 while Pataky, Kelly and Wow are left unknown wether they appear later in the franchise.
Walker's brothers, Cody and Caleb Walker could replace Walker in upcoming films.
Universal is rumoured to bring former director Justin Lin, back in the franchise to direct the final films. Universal chairman Donna Langley states she thinks there will be "at least three more" films. The franchise could also continue without Brian O' Conner, yet there is no guarantee or confirmation to wether the will be three films.[12]
Music
-Section incomplete-
Music is produced by Brian Tyler - Original film score.
(full playlist/sound available soon when tracks are released, tracks in bold are unavailable)


"Ride Out" – Kid Ink, Tyga, Wale, YG, Rich Homie Quan


"Off-set" – T.I. & Young Thug


"How Bad Do You Want It (Oh Yeah)" – Sevyn Streeter


"Get Low" – Dillon Francis & DJ Snake


"Go Hard or Go Home" – Wiz Khalifa & Iggy Azalea


"My Angel" – Prince Royce


"See You Again" – Wiz Khalifa (feat. Charlie Puth)


"Payback" – Juicy J, Kevin Gates, Future, Sage The Gemini


"Blast Off" – David Guetta & Kaz James


"Six Days (remix)" – DJ Shadow (feat. Mos Def)


"Ay Vamos" – J. Balvin (feat. French Montana and Nicky Jam)


"GDFR (Noodles Remix)" – Flo Rida (feat. Sage The Gemini and Lookas)


"Turn Down For What" – DJ Snake & Lil John


"Meneo" – Fito Blanko


"I Will Return" – Skylar Grey


"Whip" – Famous To Most (bonus track)
Trivia
The movie was originally due to release on July 11, 2014.[14] It was delayed however, following the death of Paul Walker (30th November 2013) to April 10th 2015. It was later pushed forward a week to April 3rd, 2015[15].
This film will be dedicated to the memory of Paul Walker.
Filming began in September. [16]
Locations such as Tokyo and the Middle East will take place in this film,[17] But also back to their original hometown, Los Angeles.[18]

On July 15, 2013, it was revealed that shooting will take place in Dubai and Abu Dhabi.[19] Additional casting for smaller speaking roles will take place in the shooting locations of Georgia and Louisiana in the US[20]
Egypt was supposedly another location in the film, however due to conflicts, violence and war in the country, they decided to scrap the orginal plan and choose another place instead.[21]

James Wan has replaced former director Justin Lin, taking over the Fast & Furious franchise.
Denzel Washington was offered a role at one point, but rejected the desicion. His role would have included a very small, cameo appearance in the seveth film and expand much more in the next film. This is very similar to the introduction of Jason Statham who will play Ian Shaw.[22]
Lucas Black will be reprising his role as Sean Boswell. It is reported that he will be a 'regular' to the series, and will star in not only Fast 8 but also Fast 9. He is signed for all three films.[23]
Singer Iggy Azalea will have a cameo. Coincedentally, Rita Ora, who was featured on Azalea's track, Black Widow, had a cameo in the previous film.
Bollywood actress Deepika Padukone was featured in the film at one point but this was scrapped due her conflicting schedules with Ram Leela.
Similar to how Justin Lin connected Han's backstory with Better Luck Tomorrow, James Wan will connect his film Death Sentence, which will have a major influence on the film.
Ludacris stated Paul Walker had completed atleast "80% of the film". After they had a few months to process the mourning, they knew the had to continue - in order to dediacte Walker's legacy and what he had wanted. It is what bonded them even closer and carry on the legacy in order to devote and honour Walker's greatest legacy and his unforgettable role of Brian O'Conner.[24]
Gallery
Video
Trailers

Clips

Interviews

Featurettes

Exclusives

"The Road to Furious 7"

"7 Seconds of 7"

"Cast Favorites"

Miscellaneous
Pictures
Posters
Stills
Behind The Scenes
References