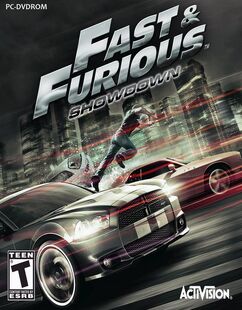 Fast & Furious: Showdown
is a cooperative racing video game, based on
The Fast And the Furious movie franchise
. Developed by Firebrand Games and published by Activision for Microsoft Windows, PlayStation 3, Wii U, Xbox 360 and Nintendo 3DS, the game's story ties into the events in
Fast & Furious 6
, including bridging the events between the story of the film and those of its predecessor
Fast Five
, as well as the story of other films in the franchise. The game was released on May 21, 2013.
Plot
The game's story begins with Monica Fuentes entering her office to find a woman looking through her files. The woman introduces herself as Riley Hicks and mentions that she's got orders to meet agent Luke Hobbs in 24 hours. Monica reveals that she's Riley's P.O.C and Riley tells her that she needs to know everything that Hobbs is up to. Monica reveals that Hobbs has been tracking a crew across the globe and is getting closer. Riley thought that it was Dominic Toretto's crew but Monica tells her that its another one. They have been running jobs from Hong Kong to Berlin and everytime someone gets close they get rocked. Recent Intel points to Russia where they heist military tech. The crew is lead by Owen Shaw, a former spec ops who was a major in the S.A.S. and ran the Uk's mobility divison. Riley points out that she was on a op with them in Cairo, Egypt and they play for keeps.
In Moscow, Shaw along with Letty Ortiz are driving Flip Car's causing chaos by running over numerous cars and evading the police, the chase ends with them escaping under a bridge. The game then shifts to Rio de janeiro, Brazil with Brian O'Connor and Tej Parker commiting a heist by attaching a vault to their cars. They manange to escape and later particapate in a freeway race in Los Angeles. After winning the race they are pursed by the police but evade them and hijack fuel tankers much similar to the hijacking scene from Fast and Furious. From there they take the trucks to their rendezvous point but are pursued by more henchman which they evade.
Ad blocker interference detected!
Wikia is a free-to-use site that makes money from advertising. We have a modified experience for viewers using ad blockers

Wikia is not accessible if you've made further modifications. Remove the custom ad blocker rule(s) and the page will load as expected.