The Acura Integra is a minor car in The Fast and the Furious franchise.
1994 Acura Integra [DC2]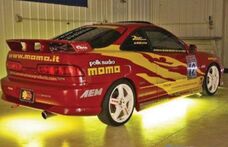 Edwin drove a red '94 Integra DC2 in The Fast and the Furious. The car was equipped with a Wings West RS Racing Series ground effects kit, Momo GT rims with red socket lungs, a heavily modified suspension, cold air intake, 3mm overbored throttle body, TruTime adjustable cam timing gears, Type-R intake cam, red anodized overdrive pulleys for both the alternator and power steering, fuel rail, fuel pressure regulator, fuel filter, DC Sports headers and exhaust, GReddy engine oil cooler, MSD 6A ignition and external HVC blaster coil, and an Exedy racing clutch and lightened flywheel.
1994 Acura Integra GS-R [DB8]
Mia Toretto drives a blue '94 Integra GS-R in The Fast and the Furious. This Integra has a JDM front end. She uses it to show Brian her driving skills as well as to drop him off at his place.
Gallery
Screenshots
Ad blocker interference detected!
Wikia is a free-to-use site that makes money from advertising. We have a modified experience for viewers using ad blockers

Wikia is not accessible if you've made further modifications. Remove the custom ad blocker rule(s) and the page will load as expected.